Migrating SimCorp Dimension® to the Cloud
Many companies are looking at ways to reduce or eliminate investment management platform upkeep, and its impact on day-to-day business activities by moving critical business applications from on-premise to a hosted cloud-based infrastructure, where service providers such as e.g., Microsoft Azure, Amazon Web Services or Google Cloud become responsible for technical operations and platform maintenance.
Historically monitoring, maintaining, and upgrading infrastructure and business applications installed on premise was by many firms seen as a necessary activity to support their ongoing business activities. Today it is an activity that very rarely is seen as something that adds much value to a company's business or seen as a core business differentiator. Running a legacy application on an old platform may even have a negative impact on a company's ability to operate and/or result in loss of market shares or reduced revenue.
Moving to a hosted cloud-based infrastructure allows companies to outsource their IT infrastructure, support, upgrades as well as day-to-day maintenance. Such activities are generally offered on a subscription basis, at a known cost and with the ability to scale hardware up and down as needed. Scaling the infrastructure up typically incurs a predefined cost but can be done on short notice. While cloud services may seem more costly than running the platform locally, it reduces the firm's budget requirements for procurement, implementation/updates and maintenance of on-premises infrastructure and applications as well as can help increase flexibility and security as reduce time to market. In order to assess the advantages and disadvantages of different options, clients usually conduct a rigorous evaluation and selection process, to establish a sound justification for their decision.
We also witness how software vendors are consistently moving away from offering on-premises solutions and toward offering new clients their software applications on an '-as-a-Service' basis. This is seen in particular with SimCorp Dimension® as a service (SCDaaS). A key selling point being that clients should "focus on what they do best" and let the vendor take responsibility for running the hardware and software. We have also observed that many vendors are expanding the number of Business-Processes-as-a-Service (BPaaS) services they offer. Over the last years SimCorp has increased their services with additional offerings such as "Investment Operation" and "Investment Accounting" services.
We expect that these newer services will gain traction and expand further over the coming years while further SimCorp clients take up these services. When companies decide to move to a cloud-based infrastructure or an "-as-a-Service" offering from a certain vendor, time and resources should be allocated in planning such a transition, as it in many cases includes re-implementing or adjusting existing workflows and integrations to ensure business continuity.
Whether the platform move is initiated by the companies' IT-strategy, i.e., not wanting to host and manage it themselves, due to a solid business case in using an "as-a-Service" (SaaS or BPaaS) offering, or a combination of the two, they tend to find the process of selecting the appropriate solution and the actual migration activities both complex and difficult.
We have extensive experience of working with clients migrating SimCorp Dimension to the cloud, in particular we support companies with:
Scoping and building business cases for moving applications to cloud
Running the evaluation and selection process for agreed in-scope hosting options, leading to a recommendation (considering e.g., business and IT requirements, regulatory requirements, current business flows, project and re-engineering efforts as well as provide input to contractual and commercial aspects)
Delivering the cloud migration project, taking on roles such as e.g., program / project management, business analysis, integration and re-engineering of business-critical workflows, test management and user training.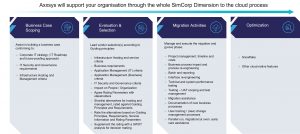 We have created a series of Insights based on our experence with clients that take a closer look at the critical phases involved and explore the main consideration for firms in the plan to move to a hosted cloud-based infrastructure.
Establishing

a Business Case

for the cloud journey

C

loud

Selection Process

Cloud Migration

–

Considerations and

Key

Activities