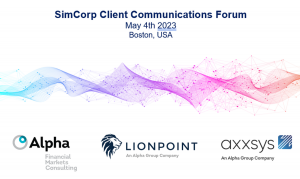 SimCorp Client Communications Forum
May 4th 2023, Boston
We are looking forward to attending the SimCorp Client Communications Forum 2023 event in Boston on May 4th. The event will discuss the top trends for client communications and Jacky Fu, our Head of Reporting Solutions for North America will be speaking about the future of Client Communications and Reporting and how to drive efficiencies, streamline processes and improve the client experience.
We will be joined by our colleagues Brian Helmes from Alpha and Jason Almeida from Lionpoint who will also be speaking at the event.
If you are interested in meeting with us at the forum, please reach out to Robert Brooks at rbrooks@axxsysconsulting.com.
By submitting this form you agree to our privacy policy, you can unsubscribe at any time.