Bridging the Data Divide: A Focus on Total Portfolio View
A consolidated, firm-wide view can be leveraged to commercialize data and aid in compliance, exposure, risk, performance analysis, and enhanced decision making.
Ten years ago, many investors primarily focused on public markets, but firms have since added and continually increase allocations to private markets, particularly alternatives. According to the 2022 Global InvestOps Report | SimCorp survey of 200 firms, 58% cited "improving data and operations support for multi-asset investment strategies" as their top priority for meeting strategic priorities next year. As companies build out these more complex assets, so too comes a need for an integrated, firm-wide portfolio that optimizes front, middle, and back-office capabilities while supporting a new asset classes view. This consolidated view can be leveraged to commercialize data and aid in compliance, exposure, risk, performance analysis, and enhanced decision making.
Due to the rapidly changing digital landscape for financial services, it is more important than ever that firms perform a detailed analysis of their current technology stack to ensure the framework is well equipped to navigate any challenges that come with multi-dimension, multi-asset class data optimization.
Preparing for "Disruptive Innovation" through Transformation Management Engagements
When an organization is positioning itself for enterprise-wide digital transformation, it is important to ask, "What is our vision? What new opportunities can we create? What else can we disrupt? What does the roadmap look like, and what roles do we need to execute it successfully?"
Paramount to realizing benefits across all stakeholders, Lionpoint Group and Axxsys Consulting recommend completing Technology Target Operating Model/Feasibility Assessments ahead of any technology implementation. This review will achieve the following and set your firm up for success:
Memorialize the Product Development Roadmap utilizing a phased approach focused on optimization and consolidation
Define a strategic approach to retain and acquire Top Tech Talent, the team of that individuals will work to maintain the current technology stack and implement the future model
Finalize the Communication and Governance Framework to increase awareness and manage change on digitalization across the organization and provide the foundation for data governance architecture.
Navigating Through Digital Transformation
Making the transition to a firm-wide portfolio view
Of the 200 firms surveyed by SimCorp, 40% cited data management as their greatest need for technological innovation. Unfortunately, many firms cannot overcome the challenges alone as they struggle to balance outdated systems with mounting operational and technological siloed data requests.?Lionpoint Group and Axxsys Consulting understand the need to maintain the business's day-to-day functions while achieving the additional capability to report holistically across the portfolio.
If your firm is looking to begin your transformation across asset classes, we have found it is best to break the process into four main phases:
1) Research & Evaluate: data source system identification and data enhancement opportunities
2) Holistic, Centralized, & Scalable Data Model: data management and mastery
3) Connect Systems: data integration
4) Reporting: data presentation via consumable reports and dashboards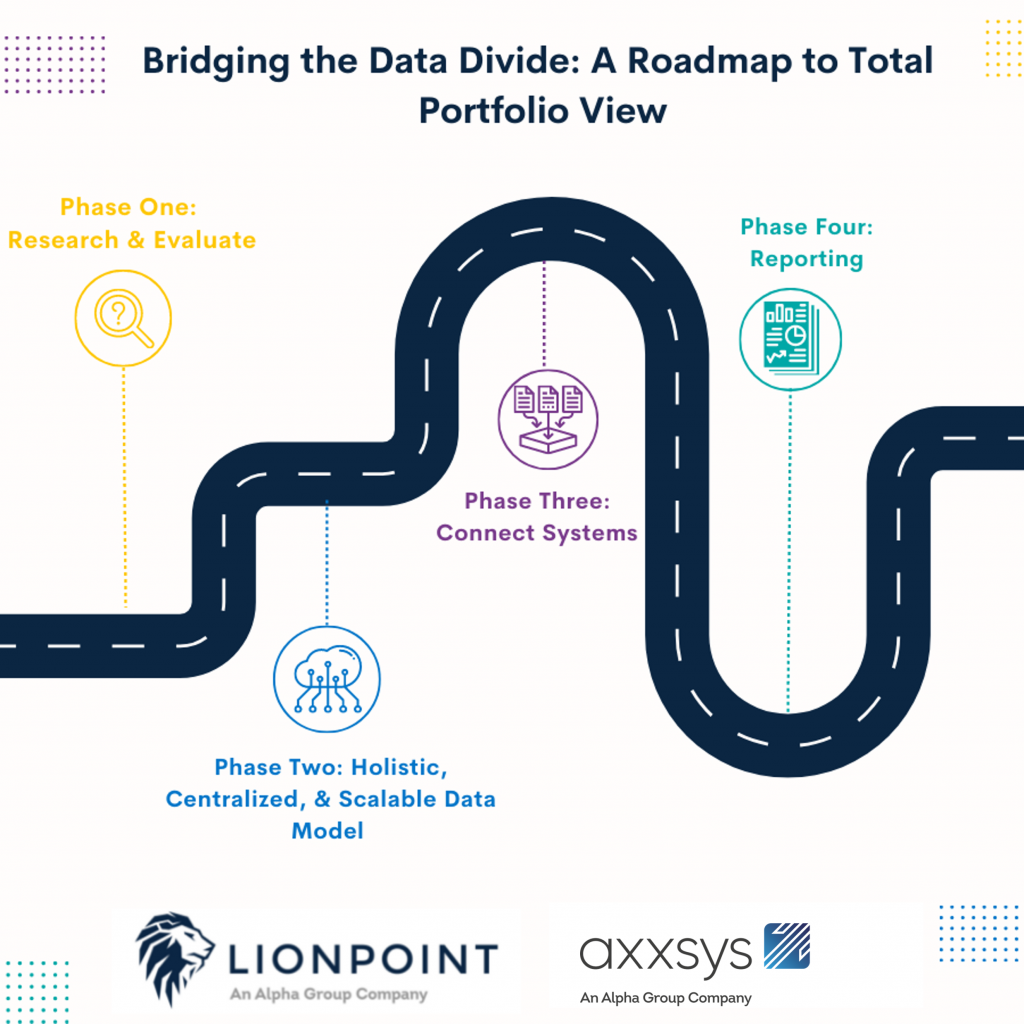 Data Challenges
As firms begin to socialize the vision of the transformation, some common challenges could arise:
Data Availability and Transparency
Pricing data is not readily available for all private market assets
Data models across global and emerging markets are inconsistent
Current technology platforms cannot manage all asset classes, resulting in disparate data sources
Manual data enrichment processes that do not live within the current IT or data framework
Redundant or Manual Operational Processes
Misalignment of heavy internal trading components in addition to allocations to alternative investments
Various and duplicative data sources for portfolio monitoring, sales pipeline and opportunities, investor contact information, and more
Disparate and/or ungoverned reporting framework(s)
Reporting standards are not consistent across private and public market securities
Manual touchpoints or intervention on siloed systems resulting in reconciliation redundancies and increased risk of data quality issues or degradation
Research and Product Development
A significant uptick in the desire for work around platform optimization and consolidation; collapsing functionality onto existing platforms rather than complete platform lift and shift
Remediation Recommendations
To help financial firms make the transition, Lionpoint Group and Axxsys emphasize that one of the first conversations in any transformation is understanding how firms would like to report on and manage investments within their portfolios. From these conversations, the team will generate ideas that will allow optimization of the current technology stack, while other ideas will invoke changes in the how firms will approach future investment strategies.
These insights are critical as a firm assesses whether to optimize the current technology stack or replace legacy with new software.
One common blocker from firms looking to standardize their data is the time dedicated to digitizing data. This phase of the transformation is one of the most overlooked and underestimated phases of successful engagement(s). We recommend allocating full-time resources for both the business and IT stakeholders to own the process of identifying data sources and tables, organizing future business rules and logic, enhancing current state challenges and issues, and assigning data stewardship for future state processes and data.
If a firm lacks confidence around data quality during Phases 3 and 4, approaching integrations may expose your firm to additional data integrity issues and ultimately misaligned reporting. Lionpoint Group and Axxsys see more successes if a firm completes the data cleanse and enrichment before integrating connecting systems. Once there is confidence in the data and agreement on the security master setup by each data steward, integrations and reporting will be more effective.
Choosing the Right Transition Partner is Key
As financial technology continues to change at a rapid pace, having the right professionals on your team, both internally and through external consulting, will ensure your firm stays abreast of industry trends and help future-proof your processes as much as possible.
Lionpoint Group and Axxsys Consulting have deep expertise across all asset classes and investment and data platforms including but not limited to SimCorp Dimension and Coric, Aladdin, eFront, Anaplan, Investran, Charles River/Alpha, iLevel, and Snowflake . Our unique approach is unique leverages our keen understanding of vendor technologies and investment managers' workflows, allowing our clients to achieve the outcomes they envisioned from these transformational change programs.
We can help your firm leverage current data trends and navigate any uncertainty to deliver targeted outcomes across the implementation roadmap. Whether you are just starting or have been undergoing this process on your own for some time and need some guidance to ensure you are on the right path, we have experience with all stages of data transformations, so we can help. Contact us to get started today.
(Editor's Note: This piece is a joint piece of content between Alpha FMC companies, Lionpoint Group and Axxsys Consulting.)
Authors:
Andrea Klug Director, Limited Partner Services, Lionpoint
Terry Flynn Head of North America, Axxsys Consulting